Who are we?
Welcome to the Pieds Jaloux website!
---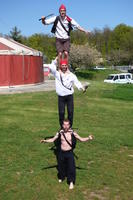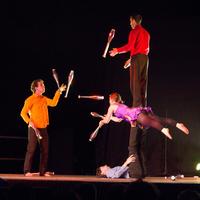 Who are we? A troupe of amateur circus artists, and we like to practice, to perform, and above all to play with all the different circus specialities.
Shows?
We perform for different events, but mainly when you ask us, that's why you shouldn't hesitate to get in touch with us. Our upcoming shows are described below.
Quelles disciplines ?
Partner acrobatics and juggling are our two main specialities, but depending on how we feel, we also do contortion, hula hoop, aerial silk, fire juggling (torches, hoop, poïs...), unicycle, dance, and of course a lot of clowning... ;)
Workshops?
We may animate juggling or acrobatic workshops for young and less young, at various levels. However, we cannot yet provide the place for the workshop. You are welcome to contact us for more information!
We are amateurs in the sense that most of us have a side job. But we still produce high quality shows: we are just unable to do a lot of dates! Furthermore, we are a non-profit association: the money we earn is used only to pay the props and the place to train.
Keep in mind that even if we're a French company, most of our shows are without voices : we speak the universal circus tongue :).
Questions?
Contact page is there, and we speak English too!